One of the common nutrient deficiencies that most growers deal with is Nitrogen deficiency. Whether you are a newbie grower or a veteran, diagnosing the lack of macronutrients like nitrogen, potassium, and phosphorus is never an easy task. However, you need to quickly solve this problem for the well-being of your marijuana plants. Before supplementing more plant nutrients, you should stop and take the time to identify the actual problem.
Most growers do more harm to their plants by blindly adding products to their pot plants without determining the problem at hand.
This article will help you get all the information that you need about nitrogen deficiency in cannabis plants and how to deal with the problem.
What is Nitrogen Deficiency in Cannabis Plants?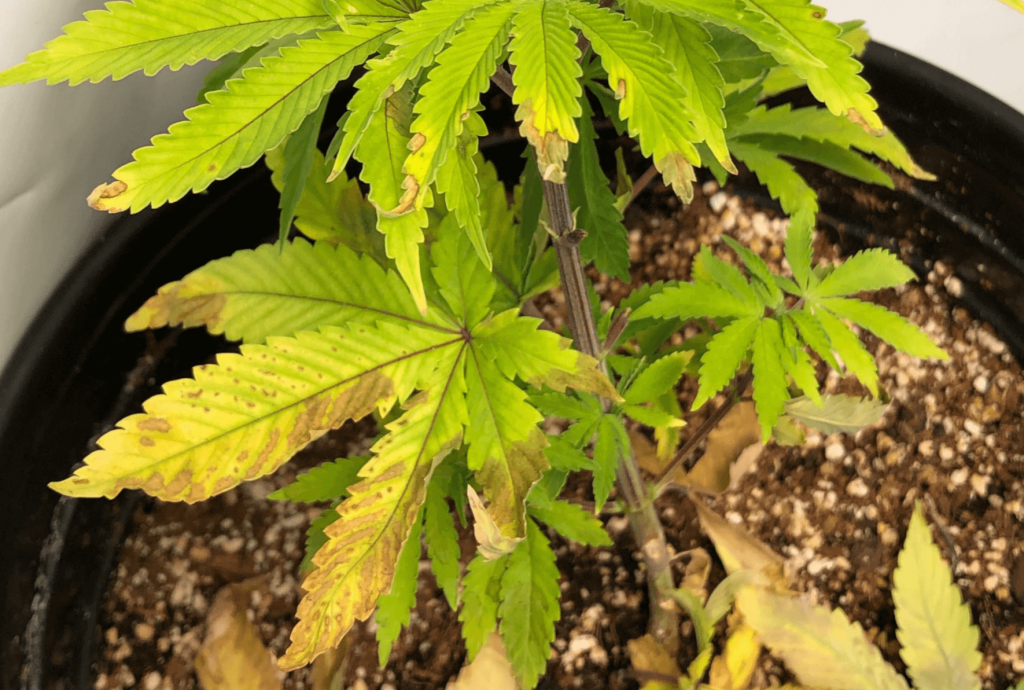 This is a deficiency where cannabis plants show that they do not have adequate Nitrogen needed to grow. To solve this problem, your marijuana plant will suck nitrogen out of the older parts or lower leaves of the plant. As a result, the leaves will crisp up and change color. This should not be a cause for alarm because Nitrogen Deficiency is one of the common nutrient deficiencies that many indoor cannabis growers deal with. Furthermore, the remedy is also straight forward and simple.
The Importance of Nitrogen in Marijuana Plants

For marijuana plants, Nitrogen is one of the major 3 essential elements apart from Phosphorus and Potassium. The usage of Nitrogen is present mostly during the Vegetation phase because it is an important component of chlorophyll, necessary for photosynthesis in plants. Furthermore, nitrogen is a crucial component of Amino Acids, which are the building blocks of proteins and this makes this nutrient necessary for pot plants to grow. Nitrogen is also a crucial component of nucleic acids such as DNA and RNA that plants require for successful growth and reproduction.
Because the use of Nitrogen in pot plants is mainly meant for tasks in the vegetative state, the plants will stop absorbing Nitrogen when the production of flowers begins. Therefore, as a grower, you must ensure that your plant does not get nitrogen deficiency in the early flowering stages. Here is how nitrogen is used in cannabis plants.
Read next: How To Identify And Treat Magnesium Deficiency 
Vegetation State
At the vegetation stage, pot plants utilize Nitrogen for the following:
Production of enzymes
Production of new plant cells
Necessary for the production of chlorophyll the green pigment required for photosynthesis
Responsible for growth of stem and leaves
Flowering Stage
At this stage, there is no uptake or very low uptake of Nitrogen from the roots by the cannabis plants. However, during the flowering stage, Nitrogen is still necessary for the following:
The growth of small leaves close to the flowers
The growth of top leaves where access to light is not adequate
Signs of Nitrogen Deficiency in Cannabis Plants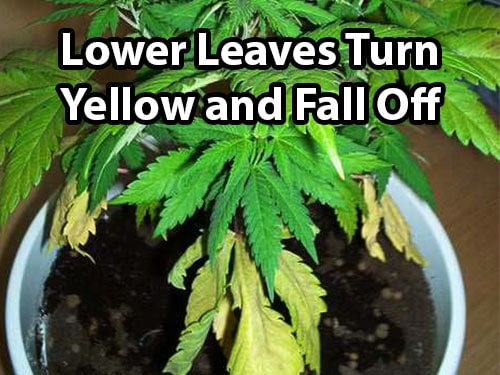 As you can see, nitrogen is extremely important to your marijuana plants and a deficiency can be extremely damaging to the plants. Fortunately, detecting nitrogen deficiency in cannabis plants is very easy, if you know what you are looking for. Just like most ways of detecting nutrient deficiencies in cannabis, the leaves is where you should be looking at if you suspect a nitrogen deficiency.
One of the key signs of lack of nitrogen in your weed plants is the yellowing of leaves. The leaves usually start to yellow from the tips and move inward until the whole leaf is yellow. The lower and older leaves of your plant will become yellow, wilt, and then drop off. This happens because the younger leaves that are higher up the plant will start taking up nitrogen from the older, lower leaves.
Cannabis plants prioritize the higher leaves because they receive more light and greatly contribute towards photosynthesis. The symptoms of deficiency will start at the bottom of the cannabis plant and move to the top since nitrogen is a mobile nutrient. If this does not happen, then it means that you are dealing with a different nutrient deficiency or light burn.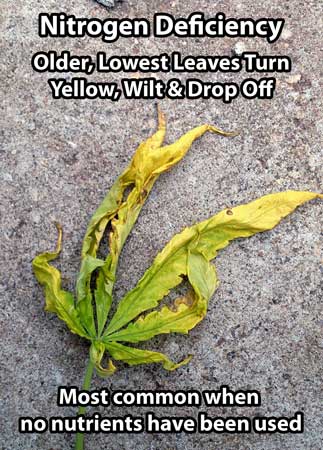 Signs of Nitrogen Deficiency in Cannabis:
Red stems
Leaves turn pale green
Yellowing of the older and lower leaves
Browning of the leaves
Yellowing of the veins on the marijuana leaf
Leaves start drooping
Wilting Leaves will break off
A slow growth rate during the vegetative stage
The best solution for nitrogen deficiency is to provide your cannabis plants with a well-balanced nutrient product. There are many formulas available today that can offer a range of important nutrients to your plants. Cannabis growers must ensure that they keep the nitrogen levels healthy throughout the important vegetative phase.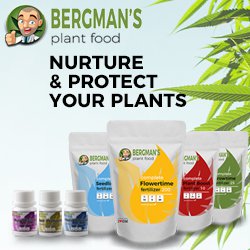 BUY CANNABIS NUTRIENTS FROM HERE
The Causes of Nitrogen Deficiency in Weed Plants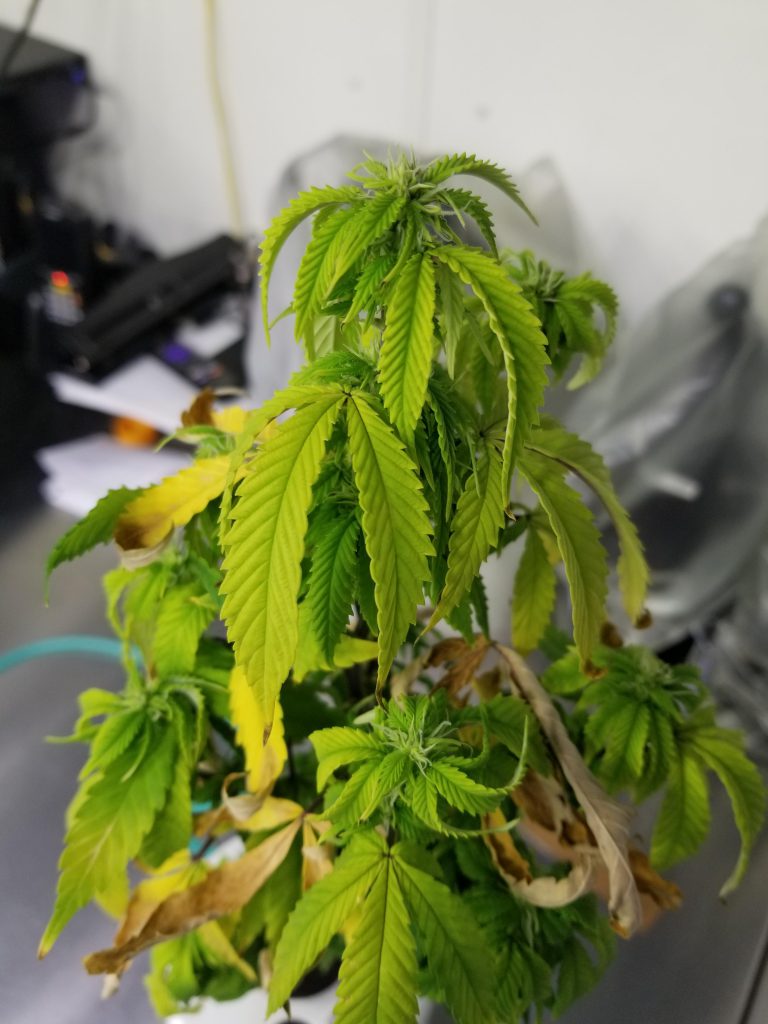 Unhealthy soil is one of the major causes Nitrogen deficiency in weed plants. If you add organic matter that has a high concentration of carbon to your soil, then nitrogen in the soil will be broken down to carbon by the soil organisms. Your cannabis plants will then absorb less nitrogen from the growth medium because it is not bio-available. This can also happen when there is excess sand and organic matter is not well decomposed or too much rain.
In some cases, there may not be enough biology in your soil to transform nitrogen in inorganic materials or the atmosphere into forms that can be utilized by cannabis plants. Therefore, cannabis growers must be cautious about what they do to the soil medium. If the soil or growing medium is treated poorly, cannabis plants will suffer from a deficiency of nitrogen and other nutrients.
Nitrogen deficiency in weed crops can also be caused by waterlogging. When there is excess water in the soil, bacteria will convert nitrate into nitrogen gas, which will be lost to the atmosphere. If you also use chlorinated water on your plants, you will end up converting nitrate into nitrogen gas and deprive your cannabis plants of the right amounts of nitrogen they require. Furthermore, in high concentrations, chloride can be toxic to weed plants and should be avoided at all costs.
Other elements in the soil like zinc, manganese, and potassium may affect the concentration of nitrogen available in the soil. The pH levels of the soil or grow medium may not be correct and the cannabis plants will not absorb nitrogen even if the supply is adequate. There are many causes of nitrogen lacking in your cannabis plants and you need to measure the nitrogen levels and take the necessary steps to quickly rectify this problem.
Bestseller No. 1
PH Meter for Water Hydroponics Digital PH Tester Pen 0.01 High Accuracy Pocket Size with 0-14 PH Measurement Range for Household Drinking, Pool and Aquarium (Yellow)
【How to use calibration】Press CAL for 5 seconds to enter the calibration mode, press in turn to select the powders corresponding to 6.86, 4, and 9.18 to complete the calibration.
【Mini Size】The mini size ph meter we designed allows you to easily put it in your pocket, so you can take measurements anytime, anywhere. It can help you test it whether you take it to the pool, on a trip, to the beach or camping.
【Family Essentials】As a tool to improve the quality of life. Can be used to test drinking water, swimming pools, PH balance in aquarium, RO system, spa or hydroponics. Basically all the environments that need to test PH value can use this tester to get accurate data.
【Easy to use】turn on the switch,put the probe into the water and stir (make the small glass ball fully contact the liquid) and the value can be read when the value is stable.
【Automatic temperature compensation】There is no need to care about the temperature of the liquid being measured. The PH meter has an automatic temperature compensation function, which can be adjusted according to the water temperature and water quality.
-$6.00 SALE OFF
Bestseller No. 2
PH Meter, 0.01 High Accuracy Pocket Size with 0-14 PH Testing Range PH Tester, Digital PH Meter for Water, Water Meter for Hydroponics, Drinking, Pool
[ 𝗛𝗶𝗴𝗵 𝗔𝗰𝗰𝘂𝗿𝗮𝗰𝘆 ] PH meter for water has high precision pH accuracy, which can test quickly and accurately within ±0.01 pH. It only takes a few seconds to show accurate and stable reading.
[ 𝗘𝗮𝘀𝘆 𝘁𝗼 𝗖𝗮𝗹𝗶𝗯𝗿𝗮𝘁𝗲 & 𝗨𝘀𝗲 ] Press CAL for 5 seconds to enter the calibration mode, select the powders corresponding to 6.86/4/9.18 to complete the calibration. The pH value of any solution can be tested by just immersing the probe of the pH meter.
[ 𝗪𝗶𝗱𝗲 𝗔𝗽𝗽𝗹𝗶𝗰𝗮𝘁𝗶𝗼𝗻𝘀 ] General-purpose pH tester, professionally used for pH test of various liquids. pH meter could be used to test drinking water, swimming pools, pH balance in aquarium, RO system, spa or hydroponics. All the environments that need to test PH value can use this tester to get accurate data.
[ 𝗙𝗮𝗺𝗶𝗹𝘆 𝗘𝘀𝘀𝗲𝗻𝘁𝗶𝗮𝗹𝘀 ] PH meter for water as a tool to improve the quality of life, bring you healthy drinking water, fruit juice, chili sauce, seasoning sauce. At the same time, if you have aquatic pets, the pH tester is also a perfect tool to ensure the safety of the pet's water source.
[ 𝗔𝘂𝘁𝗼𝗺𝗮𝘁𝗶𝗰 𝗧𝗲𝗺𝗽𝗲𝗿𝗮𝘁𝘂𝗿𝗲 𝗖𝗼𝗺𝗽𝗲𝗻𝘀𝗮𝘁𝗶𝗼𝗻 ] No more need to take care about the temperature of testing liquid,as the pH Meter Has an Auto Temperature Compensation Feature That Adjusts to Water Temperatures and Water Quality.
Bestseller No. 3
YINMIK pH Meter, Digital pH Tester for Hydroponics, pH Temp Meter with Horizontal Display for Pool, Spa, Hot Tub, Indoor Plants, Koi Ponds, Drinking Water, Wine Beer Making, Aquarium, Aquaculture
[Large Horizontal Screen Display] Tired of using yellow ones with small vertical reading display? YINMIK YK-P01 pH meter screen is designed for horizontal display, pH and temperature value can be read simultaneously which makes your job easier and more comfortable.
[Accurate pH Tester with Effective ATC] Built with stainless steel temperature sensor, YK-P01 pH meter has an effective temperature compensation (ATC) function, which ensures the rapid response and accurate test results.
[Easy Calibration] Supporting 3-point auto calibration, following the instruction manual can easily achieve 4.00, 7.00, 10.01 auto calibration. Don't worry about the calibration solution, you can easily configure up to 500ml of calibration solution for each standard using the calibration powder included in the package. In addition, you can also purchase calibration powder from the YINMIK store on Amazon at an affordable price.
[More User-friendly Designs] Backlights function ensures you can use the product in a dimly lit working environment. HOLD/TEMP button can be used for reading lock, attribute to this function, the reading will not disappear after the pH meter leaves the test solution.
[Wide Application] Excellently Use YINMIK PH Meters to measure the pH in your pool and spa; to monitor your indoor garden nutrients in water and soil and Check pH when mixing media for tissue culturing ; to get a decent idea of your mash ph when brewing beer or wine; to monitor your aquarium water conditions and test pH of your koi ponds water; to measure pH of your well water , alkaline tap water and other drinks .
-$21.23 SALE OFF
Bestseller No. 4
APERA INSTRUMENTS AI209 Value Series PH20 Waterproof pH Tester Kit, ±0.1 pH Accuracy
Easy auto. calibration with buffer recognition; auto. temp. compensation (ATC) ensures accuracy in various temperatures (32 to 122F)
Backed by Apera quality pH sensor with low impedance, ensuring high response rate
Comes in a rugged carrying case with pH 4&7 buffers and a lanyard
Auto recognition of stable values improves consistency, so you don't have to guess when to manually hold measurement
Up to 2000 hours' continuous operation, powered by AAA batteries
-$20.00 SALE OFF
Bestseller No. 5
SONKIR Soil pH Meter, MS02 3-in-1 Soil Moisture/Light/pH Tester Gardening Tool Kits for Plant Care, Great for Garden, Lawn, Farm, Indoor & Outdoor Use (Green)
Kindly NOTE: This soil tester can not be applied to test pH value of any other liquid. If the soil is too dry the indicator will not move, and water it before testing.
3 METERS IN ONE: Soil moisture level, Soil pH value and Sunlight level could be tested easily according to your need by switching the function button of this soil meter.
NO BATTERY NEEDED: Simply insert the meter into soil, wait few minutes, accurate test results will be displayed on the readout panel. No battery is needed.
STURDY AND SCIENTIFIC DESIGN: Reliable materials and upgraded technology used for this soil meter make it advanced and high-quality for long-term use.
MULTIPURPOSE SOIL TEST KIT: Portable and compact design enables you to use this soil meter for house garden, farm, lawn and any other soil & plant analysis. Ideal for indoor and outdoor use.
Read next: Best Soil For Weed
Fixing Nitrogen Deficiency in Marijuana Leaves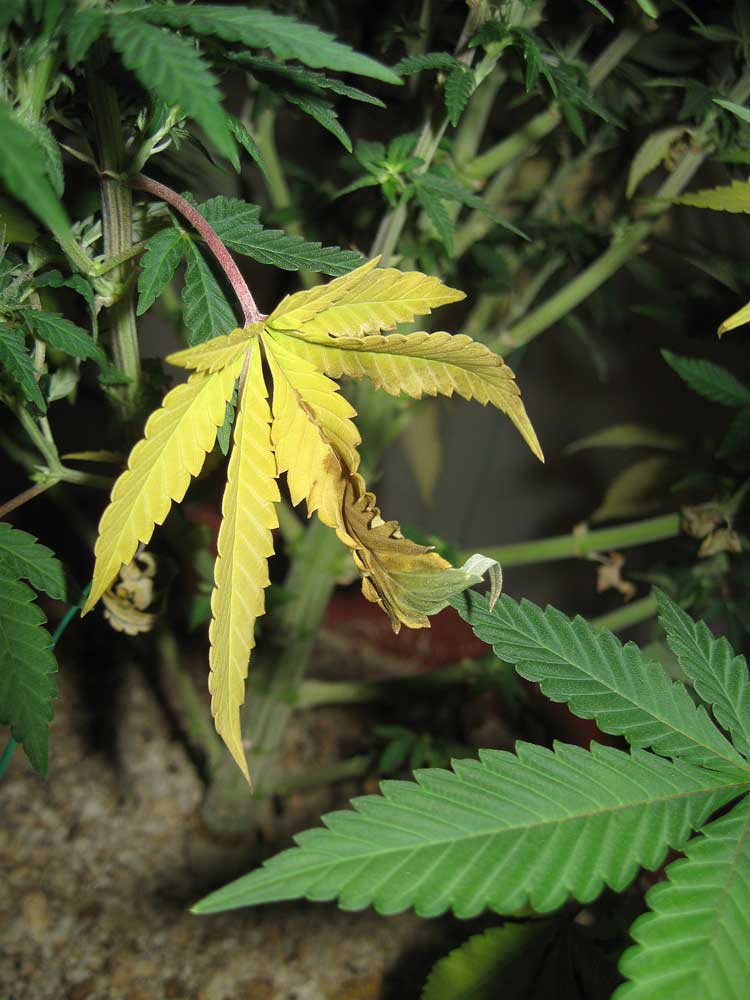 When solving nitrogen deficiency on weed plants, your action will be different in the vegetative and flowering stages. This is why we will cover the different stages by diving them into three parts, the vegetative phase, early flowering, and late flowering stages.
Solving Nitrogen Deficiency During the Vegetative Stage
Marijuana plants take up more nitrogen during the vegetative stage. The plant uses nitrogen for growing new sections and its needs for nitrogen will keep growing. If the cannabis plant does not get adequate nitrogen from the growing medium, it will start taking up nitrogen from the lower parts of the plant that receive less light. This nitrogen will be used in the growth of the higher plant sections.
Therefore, growers must ensure that their plants do not have nitrogen deficiency during the vegetative period. However, fixing this deficiency is easy. All you need to do is increase the amount of nitrogen in your next mix and maintain a pH of 6.2 to 6.8 and the spreading of symptoms on your cannabis plant will gradually stop. However, just like other deficiencies, the most affected leaves never recover.
Some Nutrients For Vegetative Stage:
Bestseller No. 1
Humboldts Secret Base A & B Bundle – World's Best Base Nutrient System – Liquid Nutrient/Fertilizer for Outdoor & Indoor Plants – Supports Vegetative and Flowering Stages of Plants – Set of 8 Ounces
COMPLETE MACRONUTRIENT PROFILE FOR PLANT NUTRITION: The combination of our Base A & B Bundle results in a complete feed for rapidly growing flowering plants and indoor plants. Our signature blend consists of Nitrogen, Phosphorus, Potassium, Calcium, Magnesium, and more.
EASY-TO-USE TWO-PART SYSTEM: Simple use both bottles at equal rates throughout the entire growing cycle, from the beginning of the vegetative stage until the end of the flowering stage. We recommend application with every watering for maximum results.
COMPATIBLE WITH ALL GROWING MEDIUMS: Our clean-running formula is suitable for all grow mediums, including potting soil for indoor plants, hydroponics, aquaponics, and coco coir cultivations.
COMMERCIAL-GRADE AND GARDEN-FRIENDLY: Our two-part base system is both commercial-grade and garden-friendly, ensuring the optimal health of your plants and flowers. It's made from quality ingredients that are 100% water soluble and pH-balanced for ease of use.
APPROPRIATE FOR ALL PLANT LIFE: Base nutrients are the building blocks of all plant life. Thousands of home and commercial growers use Humboldts Secret Grow & Bloom Base System. It works on all plants, trees, flowers, bushes, and lawns.
Bestseller No. 2
Reefertilizer Grow - Powerful All-in-One Powder Nutrients for Plants in Veg
All-in-one powder fertilizer blended for vegging plants and enhanced with Iron & Magnesium.
GROW GREENER: Less plastic waste than liquid nutrient bottles and made with no animal products.
GROW SMARTER: Includes instructions and guidance. Access to our Free Guide To Home Cultivation.
GROW EASIER: Just one weekly feeding for plants in flower. No more mixing A B solutions.
GROW BIGGER: Chelated fertilizers are immediately available to your plants and provide fast growth.
-$10.10 SALE OFF
Bestseller No. 3
FoxFarm Liquid Nutrient Trio Soil Formula: Big Bloom, Grow Big, Tiger Bloom (Pack of 3-16 oz Bottles) + Twin Canaries Chart
Get your garden going with FoxFarm Grow Big, our liquid concentrate fertilizer that supports lush vegetative growth.
FoxFarm Big Bloom Liquid Plant Food is formulated for use on all plants and can be used every time you water. OMRI Listed and Registered CDFA Organic Input Material.
FoxFarm Tiger Bloom is a phosphorus fertilizer that contains nitrogen to support vigorous growth. FoxFarm Tiger Bloom is designed to encourage abundant fruit, flower and multiple bud development.
FoxFarm Big Bloom, FoxFarm Grow Big, and FoxFarm Tiger Bloom, together at last. Designed to work together to support vigorous growth, multiple bud development and abundant fruit.
Twin Canaries Conversion Chart included with every order.
-$24.00 SALE OFF
Bestseller No. 4
Growth Science Nutrients - Starter Pack
This starter pack is intended to get you off the ground with your garden. It contains four of our tried-and-true fertilizer products that successful growers, on all scales, have come to depend on.
Made from the highest quality ingredients, specifically formulated to save you time and money. For use in soil, coco and all hydroponic mediums.
It's essential to provide the right nutrients at the right stages of growth. Growth Science will walk you through those steps with this, cost-effective starter pack.
Each pack contains 5 bottles. 1 pint of Base A, 2 pints of Base B, 1 pint of Solid start, and 1 pint of rock solid
Base A and B form the foundation of the Growth Science system. Together they provide your plants with essential macro and micro nutrients essential for growth.
-$2.56 SALE OFF
Bestseller No. 5
Treating Nitrogen Deficiency During the Early Flowering Stage
After the cannabis plant has completed its vegetative growth, it will naturally reduce or even stop absorbing nitrogen from the growth medium. This makes nitrogen problems more serious because you may lose a significant quantity of leaf mass. If you discover nitrogen deficiency early, you should definitely act fast to save your cannabis plants.
You can solve this problem by spraying the cannabis plants with a water and nitrogen mixture for about 15 minutes before lights out. Based on where your plants are in the flowering phase, they may absorb nitrogen through the leaves.
Fixing With Nitrogen Deficiency During the End of The Flowering Stage
During the last 2 or 3 weeks of the flowering stage, when flushing your cannabis plants, you want this nitrogen deficiency to persist. If you do not force your plants into a deficiency, the buds will weigh much more, but will not have a good taste and may sparkle a little. As a result, you will be losing a lot with regards to the quality of your buds and the taste of your final harvest.
The Only Time You Should Have a Nitrogen Deficiency in Cannabis Plants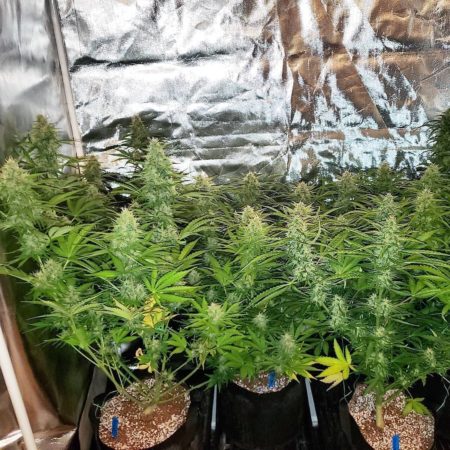 There is a time during the cultivation of cannabis plants that you will actually desire a nitrogen deficiency. The only time you will want this is at the end of the flowering stage. Based on the strain of cannabis, you want the leaves to start turning yellow at about 8 to 10 weeks of flowering. This is a phenomenon that is specific to cultivating weed because it has everything to do with the final product, the buds.
Chlorophyll is the crucial pigment that helps in light absorption. During the end of the flowering process in cannabis, you will have to kill the plants for you to harvest them. The problem is that chlorophyll contains a smell similar to dry grass or hay that you can taste when smoking the resultant product.  The best way to eliminate this taste and smell is by flushing out chlorophyll from the plants.
Cannabis growers usually start by watering their plants with very small amounts of nutrients to trigger a nitrogen deficiency in marijuana plants. This is apparent when you check out pictures of cannabis plants that are ready for harvest. You will mostly notice large buds and most of the plant leaves have a bright yellow color. You can also get rid of excess chlorophyll during the drying stage by leaving the plants in complete darkness for several days to hasten the chlorophyll dissipation from leaves.
Read next:  Cannabis Heat Stress- How to Prevent & Treat
The Bottom Line
Nitrogen deficiency can have dire consequences on your marijuana crops. This is why you should inspect your plants for signs of nitrogen deficiency and consult experienced growers for advice. You should never rush to treat the problem if you are not sure of its cause. With the right remedies, your plants will get adequate nitrogen to support its growth and you will end up with green, healthy, and sweet-smelling cannabis crops that will produce the highest, quality yields possible.