If you want a thriving cannabis indoor garden, you have to make sure that the plants are getting the right levels of CO2. Carbon dioxide is necessary for the cultivation of marijuana since it is what plants consume. Scientists believe that the earth's atmosphere contains about 350 parts per million (PPM) of CO2. Millions of years ago the amount of CO2 that was in the atmosphere was way much higher than that and was predicted to have been at 1500 PPM.  Therefore, this shows that the more CO2 you give cannabis, the better the plant growth since it can use up CO2 up to 1500 PPM.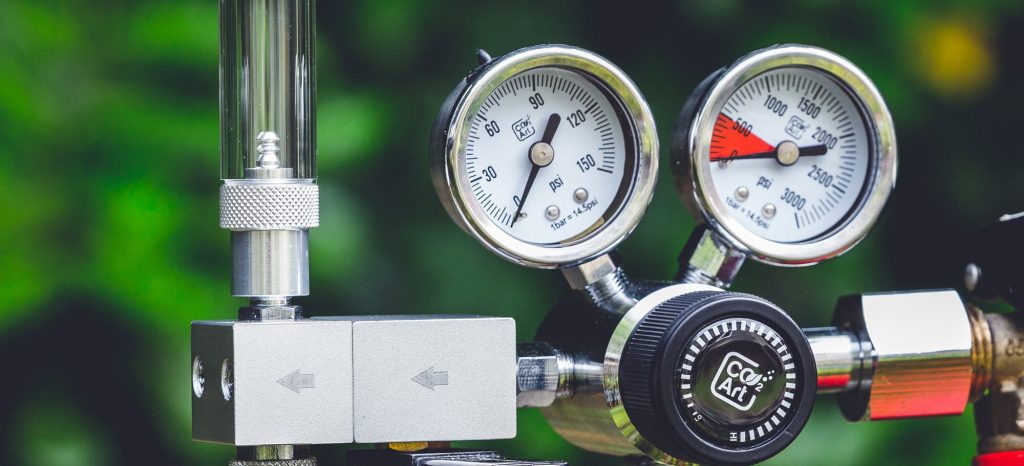 When growing cannabis in a grow room, you need to ensure that the area is well ventilated since, without proper ventilation, the plants can consume all the CO2 in just a few hours. When there is no more CO2 to intake in the air, the plants start suffocating, and experience stunted growth where eventually they may die. However, if there is a regular supply of CO2 in your grow room, you are set to experience higher yields, from the same plants. The plants can grow healthier with the returns up by 20 to 30 percent.
Given these points, there is one question that arises, how do you determine the amount of CO2 for your grow area? This is where a controller comes in handy. When you rely only on the regulator and the gas tank, you will just be working with rough estimates. However, a controller helps you get the accurate measurements to help you maximize the growth of your weed without encountering any problems. You should first determine the CO2 level in the grow room by using a CO2 meter, or you can use a regulator that comes with a built-in CO2 meter. Then, you need to determine the volume of the grow tent by getting the length, width, and height and multiplying them together. Afterward, multiply the resulting figure to either 0.0013 or 0.0015, and you will get the amount of the required CO2.  It should lie between 1000 to 1500 PPM. You can, therefore, set up the regulator to the required flow rate. While doing so, you should always remember that plants use up carbon dioxide only during the day and at night they consume oxygen.
With the above necessary information here is a review of the best CO2 regulators you can find in the market that you can use when growing marijuana.
Best Equipment About Climate Control For Grow Cannabis Indoor 09- 2023
The Top 8 CO2 Regulators for the Growth of Marijuana
Day Night CO2 Monitor and Controller
If you are a cannabis grower that prefers to have the control of your growing environment on your fingertips, we recommend acquiring the Day Night CO2 Monitor and Controller. With it, you can set your CO2 levels as per what your grow tent requires. It makes use of an NDIR CO2 sensing technology to detect the levels of CO2 in the grow tent. When the grow tent has less CO2, the device automatically detects and starts to pump in the CO2 until it reaches the desired level where it then switches off. It comes with a photo sensor that detects darkness and shuts it off since the plants only need to use CO2 during the daytime. The regulator has a large LCD that clearly shows the CO2 levels and the temperature of the grow room. It comes with mounting hardware and installation instructions. It is easy to assemble, and the functionalities are simple to operate.
Pros
The CO2 generator control is accurate.
It comes with with a photosensor that turns off CO2 in darkness.
It is easy to set up and operate.
Helps to save power since it generates CO2 only when in need.
It has a sensor life expectancy that can last up to 15 years.
Its measurement range is higher compared to most in the market.
It can cover a space of up to 1500 square feet.
Cons
The sensor requires time to acclimatize.
It comes with only a one year warranty that is lower compared to other regulators in the market.
VIVOSUN Hydroponics CO2 Regulator
A product by Vivosun, the VIVOSUN Hydroponics CO2 Regulator is one of the cheapest regulators in the market today and is made using a long-lasting and durable brass. Even at a low price point, the CO2 REGULATOR FOR GROW ROOM is of very high quality and has features that deliver incredible growth results. You can use it in greenhouses, indoor grow rooms and grow tents as it promises to increase the physiological development of your cannabis plants. The device helps to improve your weed product by 30 percent. It comes with an industrial solenoid valve, a flow meter with a 0.5 to 15 CFH range, a USA standard 3-prong plug and a 5—meters free plastic dispensing tubing. If you want to attain optimal control, you need to use the regulator with a CO2 controller.
Pros
The regulator has a very high precision rate.
It can fit on all standard CO2 tanks.
It can work in grow tents of all sizes.
It comes with a four-year warranty.
Cons
The adjustment knob is tricky to dial in.
The hosepipe does not come with a clamp.
Titan Controls Preset Carbon Dioxide (CO2), Monitor & Controller
If you are new in the cannabis growing business, you probably do not want to get something that is complicated to use. The Titan Controls Preset Carbon Dioxide (CO2) Monitor & Controller is one of the most comfortable regulators to handle. By just plugging it, the device is ready for use. It comes with an inbuilt photocell that helps to detect light and darkness to aid in the delivery of CO2 only during the daytime when it is needed most. When the level of CO2 is at the required amount, the device automatically switches off. It also has an internal self-calibration feature that can help you to deliver an accurate reading of the CO2 levels comfortably. The regulator works at 15 Amps and has a CO2 control of 1500PPM. It is ETL listed for commercial use and is well calibrated to ease the application. The manufacturer offers a three-year warranty giving you peace of mind when operating the device.
Pros
It has a built-in self-calibration feature.
It is easy to use.
It comes with a three-year warranty.
It helps to reduce your cost by using 50 percent less CO2.
It gives off a warning whenever the CO2 levels are too high.
It contains a very susceptive sensor.
Cons
The price is very high.
AQUATEK CO2 Regulator Mini
If you only require a small CO2 setup for your garden, the AQUATEK CO2 Regulator Mini is what we would recommend you to acquire. You do not need an adapter to use the regulator. The gas tank needs to be filled up before connecting the regulator. It comes with a precision needle valve that helps in fine-tuning the release of CO2. You can use the regulator on lost CO2 atomizers and diffusers. It is compatible with high-density tubing and 3/16 or ¼ inch gas lines. The pressure gauge has a PSI maximum of 1500 and a reduced pressure gauge of 200 PSI max. It comes with two indicators, one measuring the capacity of the CO2 gas tank and the other measuring the output working pressure. The regulator meets the highest quality standard with its electronic regulation and fine-tuning capabilities.
Pros
It is compatible with most CO2 atomizers and diffusers.
It does not require a diffuser.
It has a cool touch solenoid design
Cons
Using the needle valve is tricky.
MOD Complete MDC99005 CO2 Regulator
The MOD Complete MDC99005 CO2 Regulator is made to be compatible with most high-density tubing brands to help with CO2 injection as well as most atomizers and diffusers. It is made of high quality stainless steel that is durable and highly reliable. The steel is made to help with conveying precise measures of CO2 that weighs from 150 to 2000 PSI. It comes with a dual gauge display that allows you to monitor the level of CO2. The regulator comes with a precision release valve that can help you to fine-tune the release of CO2 creating an ideal environment for the growth of your plants.
Pros
Very simple to setup
It is very precise since it comes with an inbuilt precision.
It is affordable.
Cons
There are reports of the low-pressure gauge breaking.
AGPTEK Mig/Tig Flow Meter Regulator
The AGPTEK Mig/Tig is a professional flow meter regulator that is suitable for use on most CO2 and argon tanks and Lincoln welders. It has an adjustable output flow with a range between 10 and 60 CFH that is indicated by a ball moving up and down the flow tube. The outlet can fit both the male nut that measures 5/18 inches by 18 and the female nut that measures 9/16 inches by 18. It also has a standard 1/4 inches barbed fitting. The regulator comes with a dual scale gauge that is made with an unbreakable polycarbonate lens to enhance its durability.
Pros
It is very affordable
The regulator is long lasting and durable.
It has a gauge that is easy to read.
It can fit on most gas tanks.
Cons
It cannot automatically detect the levels of Carbon dioxide.
Taprite T752HP Two Product Dual Pressure Kegerator CO2 Regulator
The Taprite T752HP Two Product Dual-Pressure Kegerator CO2 Regulator undergoes a rigorous quality control inspection to ensure that it falls into the UL Standards 252 and 252A for compressed gas regulators and meets the requirements of the MIL-STD-105E. It is made with a 10-micron filter that helps to keep contaminants out of the regulator. The outlet feature has a backflow check valve that closes it. It comes with a factory set blow-off between 55 and 65 PSI. The regulator comes with large knobs that help in increasing and decreasing the pressure with ease. Each regulator is made up if a sentry shut-down safety feature that stops the propelling of CO2 in the event the regulator fails.
Pros
It has dials that make it easy to operate.
It has passed all the quality assessments.
The regulator is simple to connect.
It can fit most standard gas bottles.
Cons
Its dials can be difficult to read.
Taprite 12218 1 X co2 Dual Gauge Regulator
The Taprite 12218 1 X co2 Dual Gauge Regulator comes with two pressure gauges where one measure the CO2 in the gas tank while the other measures the output gas. The indicators come with a PSI gauge that lies between 0 and 50. The device is very reliable and delivers a powerful performance. It has bonnets that are made of polycarbonate which makes them extremely durable and user-friendly. It contains a 10-micron filter that helps to protect the regulator from external contaminants. It as well comes with a bally type check valve that helps to prevent backflow of the output gas. The unit stays in pressure even if the gas tank is low on CO2. The regulator is UL approved and noted to be one of the most consistently accurate regulators in the market.
Pros
It is one of the most accurate regulators.
It is long lasting and durable.
It is straightforward to connect.
It can fit on most CO2 gas tanks.
It comes with a shut-off valve that helps to prevent back-flow.
Cons
Reading the dials can be difficult.
Introducing CO2 in your Grow Room
To have a continuous flow of CO2 into your grow room you need to incorporate the use of a CO2 generator. The generators help by providing the grow room with controlled amounts of CO2 for the plants. One of the main reasons why you need to control the amount of CO2 that your plant's intake is because when the levels exceed 1500PPM, the CO2 suddenly becomes toxic to your cannabis plants. A CO2 generator comprises of three essential parts that include a tank, controller and regulator. The tank holds the CO2 while the regulator controls the amount that comes from the gas tank. The controller, on the other hand, helps you to set the amount of gas that you want to flow out per hour. One of the most inexpensive ways to purchase the CO2 generator is by buying each piece on its own.
What to Consider when Purchasing a CO2 Regulator for your Marijuana
Ease of use
When choosing a regulator, you do not want to get a device that will be difficult for you to read. Depending on your preference, you can go for either one with a digital LCD or one with an analog glass screen. It is best if you acquire one that can easily self-calibrate to reduce the number of adjustments you will have to make.
The Size of the Grow Tent
Before you choose a regulator, you first need to determine the size of the growing area you are going to cover. Different regulators can cover specific areas. If your grow area is massive, you may find it necessary to acquire more than one CO2 units.
The material
A good regulator should be of a material that is long lasting and highly durable. One of the most used elements is Brass. It does not hurt the plants in any way and provides the necessary protection to all the internal components.
Sensor
You should go for regulators that come with a sensor. A sensor helps the unit to start the distribution of CO2 gas to the grow room when it is required and can also stop the delivery when the level reaches to that which the grow tent requires.
Certification and Warranty
When selecting a regulator, it is best to acquire one that comes is UL approved for use commercially and comes with a warranty of not less than one year. It protects you in case of any damage or problem you encounter while using the product.
Frequently Asked Questions
When does your grow tent require more CO2?
When you notice that even after the introduction of led grow lights to your cannabis garden the plants are still unresponsive, then what they may lack is the right amount of CO2 to propagate the growth. Whenever you lift the amount of CO2 to the required levels, your plant yields can increase by 30 percent. By not doing anything to resolve the problem, your plants risk having a terrible immature death.
How much CO2 does cannabis require to grow?
When growing cannabis, you need to ensure that the levels of CO2 present in your grow tent is not less than 400 PPM. Research shows that an increase in the CO2 level to concentrations around 700 PPM increases the plant's photosynthetic ability by 30 to 40 percent leading to explosive growth. However the productivity of the plants start to drop whenever the concentration begins to exceed 1500 PPM, and the plants may experience stunted growth, lower yields, and leaf deaths.
Conclusion
When you start your indoor weed garden, you need to consider all the environmental factors that include temperature, humidity, lighting, carbon dioxide levels, and many others. By stabilizing all the conditions by use of controllers, generators and regulators you can ensure that you attain better quality and high yields. A co2 grow room kit is one of the essential items that can make or break your cannabis farm. Make sure that you attain one that comes with a lengthy warranty to protect you from any defects. It should also be easy to use and be very durable. By artificially supplying CO2 to your grow room, you can expect to attain better cannabis harvests. Therefore it is crucial that you acquire the best CO2 regulator for the job.
Top 5 Best Selling CO2 Regulators On Amazon: