One of the challenges that marijuana grow tent owners contend with is Humidity control. Humidity fluctuates regularly and this affects the growth of the crops.

Many of the farmers, especially those starting marijuana or indoor growing of plants for the first time do not understand the importance of humidity control and lose many of their crops to inadequate humidity levels.

Many of these farmers do not know that humidity level does not work the same for all the crops and it varies from plant to plant.

Too little or too much humidity level can harm the plants. What some do not know is that in order to save the plants, they need to regulate the humidity level by using a humidifier or in some cases especially with marijuana plants a dehumidifier. It is for this reason that I am here to give all the information you may want to know about humidifiers and dehumidifiers and learn how they can help to regulate the humidity levels in your grow tent or grow room for better, healthier yields.

Comparison Chart:

Preview

Best Large Dehumidifiers
TItle
hOmeLabs 3000 Sq. Ft. Energy Star Dehumidifier - Ideal for Medium to Large Rooms, Bedrooms and Home Basements - Powerful Moisture Removal and Humidity Control - 35 Pint (Previously 50 Pint)
Best Large Dehumidifiers
Preview
TItle
hOmeLabs 3000 Sq. Ft. Energy Star Dehumidifier - Ideal for Medium to Large Rooms, Bedrooms and Home Basements - Powerful Moisture Removal and Humidity Control - 35 Pint (Previously 50 Pint)
Best Equipment About Climate Control For Grow Cannabis Indoor 11- 2023
What is a humidifier?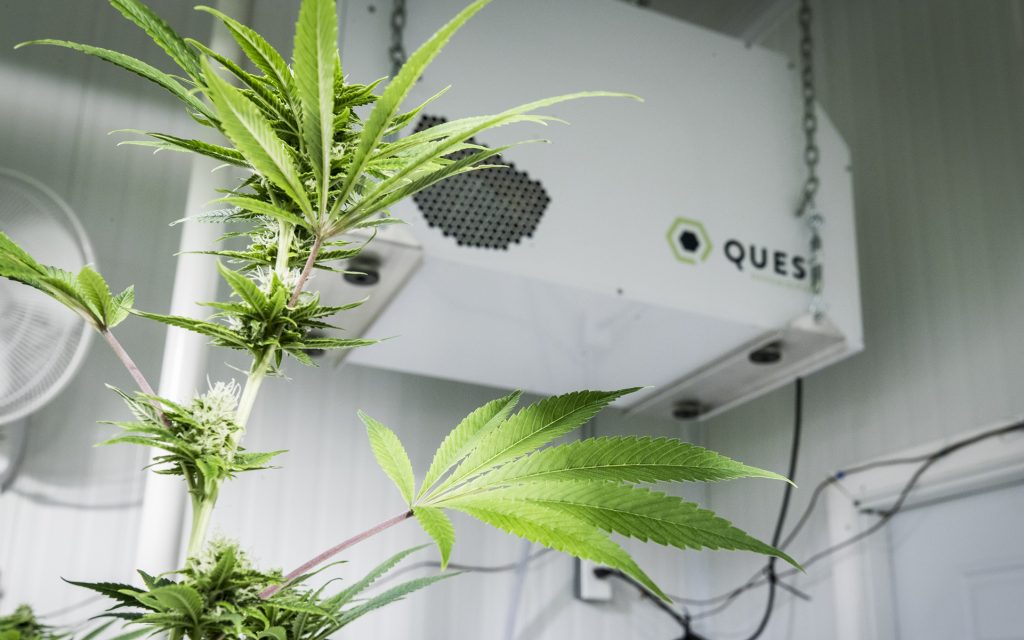 Before we look at the different kinds of humidifiers in the market, it is only fair to understand what a humidifier is first. Every grow tent or grow room has dry air that surrounds the space. The dry air has no moisture in it and to increase the moisture, an electric appliance or device becomes a necessity. This device is a humidifier and besides helping to increase the amount of moisture in a grow room or a grow tent, a humidifier can also increase the same in offices, residential apartments, schools, hotels and greenhouses among other places.
People that do not carry out indoor growing do not have to bother with humidifiers because they have nature to take care of the humidity levels. However if you are an indoor farmer, with a grow tent or a grow room, controlling humidity should be one of the top things to do on your list. If the levels are not adequate, then you will be doing futile work, as you will be putting your crops at risk.
Best types of humidifiers
One other major problem that many new grow room or grow tent new farmers have is choosing the right humidifier for their plants. This I can agree is daunting because the market has many different types of humidifiers. Selecting the best for your marijuana plants is not a walk in the park. The first thing you need to do is acquaint yourself as a farmer with the available types of humidifiers in order to make a sound buying decision.
Research on the entire functionalities o the various humidifiers before spending your money on the wrong one. You and I know that researching on the various types of humidifiers takes time, which you may not have on your hands. I will therefore help with information on some of the best humidifiers in the market and give you a few insights on their pros and cons. The humidifiers come in large, medium and small sizes. Read on to find out what you need for your grow tent or grow room humidity control.
Best Large humidifiers/dehumidifiersFor Grow Room
HOmeLabs 2500 sq. ft. Dehumidifier
If you are looking for the best humidifier for grow tent, then HOmeLabs has the best there is to offer. The company creates user-friendly appliances that are mindful, approachable and intuitive. The appliances are of the highest quality with products that are modern, clean and people friendly. An in-house engineering team addresses any mechanical issues and design problems by testing every single of hOmeLabs appliances. One of their best products is the 2500 sq. ft. dehumidifier which is a great humidifier for grow tents. The dehumidifier comes in different pint capacities of 30, 50 and 70. It works well to eliminate moisture from your grow tent.
. The above is a large dehumidifier for larger grow tents. The 50-pint gallon appliance can remove up to 50 pints of moisture from the air daily. The dehumidifier has a very sleek and clean design and comes with the convenience of moving it around by having built in wheels and a handle. It is long lasting, easy to use and comes with moisture settings. The dehumidifier automatically shuts itself off when the tank is empty which saves you energy. It also comes with a hose outlet that allows it to drain the excess water continuously. Your grow tent will always smell fresh because the dehumidifier also gets rid of odor while at the same time eliminating moisture.
A summary of the features
It

does not make any noises and will run quietly throughout its

operation

Comes

with a water tray so there are no spills

Has

a decent cord that does not tangle

Easy

to use

Easy

to move around as it comes with in-built wheels and a handle

Easy

to clean as the filter is easily removable

Push

buttons for continuous moisture setting

Auto

shut off when the tank runs dry

Auto

turn on when power goes and comes back

Hose

outlet to drain the water

Long

lasting

Eco

friendly and people friendly

Reduces

the threat of mold and mildew to the plants

Removes

odors

Comes

with a 2-year manufacturer's warranty
The above dehumidifier is a great appliance to have if you want the best from your plants. To enjoy the optimal performance of the above unit, you have to ensure that you clean it at least once a week.
Ivation 70 pint energy start dehumidifier
This is a large capacity appliance convenient for marijuana growing in grow rooms. It weighs only 40 ponds but it is sturdy, compact and very powerful. it is easy to move around as it comes with smooth rolling caster wheels, to customize the air settings in the room, the appliance comes with two-speed fan controls that give the grow room effective excess moisture removal. The appliance has touch control buttons and removes up to 70 pints of moisture daily during humid months.
The Ivation appliance has a LCD interface that allows you to check and control the humid levels. The humidifier also has energy saving auto shut off, a cleanable filter and a timer. The humidifier is not quiet. The humidifier is easy to use, as well as easy to clean. It is long lasting, sturdy and powerful. The humidifier needs regular cleaning in order for it to deliver optimal results.
Honeywell Cool Moisture Console Humidifier
The above humidifier is for large and extra-large grow rooms. It uses a very advanced evaporative humidification technology that ensures your marijuana plants gets everything they need. The 3-gallon capacity humidifier can run for 24 hours before the next refill. It emits cool filtered invisible moisture and comes with an adjustable humidistat that automatically turns the appliance on or off to maintain the level of humidity set for the plants.
It also comes with three speed settings that adjust the moisture output in the grow room as well as the sound levels. When the tank runs empty, the indicator lights warn with the reading Tank Empty and when o attaining the set humidity levels, it reads Humidity Reached. The humidifier has two convenient water tanks that have easy openings and are easy to clean and fill. You do not expect any white dust from the appliance because it has wicking filters that ensure that everything that comes out is safe and clean. The humidifier comes in black and white. It is also quiet.
Best Medium humidifiers /dehumidifiers For Grow Room
HOmeLabs 30 Pint Dehumidifier
The above is a medium dehumidifier great for grow tents. It covers a maximum area capacity of 1000 sqft and removes about 30 pints of moisture from the grow room daily. It is compact, sturdy, and highly effective. Based on the technical manufacturer specifications, the appliance is a great marijuana humidifier and prevents the crop from getting mold or mildew. This ensures that you get a strong, healthy and above average yields. For optimal performance of the unit, you have to clean it regularly and handle it with care.
PureGuardian H965 Ultrasonic Cool Mist Humidifier
Dry air in a grow tent or room can be detrimental to the proper growth of marijuana. The above humidifier is one of the best solutions for humidifying dry air in a grow room. The medium sized 70-hour hydroponics humidifier fights the growth of mold and mildew and keeps the moisture in the room at the correct levels. The ultra-quiet appliance also emits a soothing cool mist, which helps to keep the crops free from mold and mildew. It comes with an indicator that warns you when the water levels are low. You can even watch your crops at night because the humidifier comes with a night light. It has 3-speed mist control buttons and an auto shutoff when the water levels are low.
Best Small humidifiers/dehumidifiers For Grow Room
Eva-dry Renewable Mini Dehumidifier
If you have a small grow tent, then this mini dehumidifier is great for your marijuana plant. This renewable dehumidifier does not rely on electricity unlike many other dehumidifiers. The appliance uses the silica technology method and can last up to ten years and over. Because of its size it is not the best for large grow room marijuana farming. The dehumidifier does not come with an LCD to monitor the crops and the environment surrounding them and it does have any lights either.
After attaining the maximum capacity, the appliance changes the bead colors. Plug the appliance in a well-ventilated room once it is green. Wait for it to turn orange before transferring it to the grow room. The liquid does not spill out once the maximum capacity is attained. Instead, a gel absorbs all the excess liquid. It is quiet and comes with a five-year manufacturer's warranty. Other notable features are;
Easily

portable

Easy

to use

Does

not need electricity, batteries or cords does not spill

Comes

with a 5-year warranty

Very

economical

Affordable

Great

for small weed farmers

Pulls

moisture out of the grow room

Prevents

the growth of mold and mildew on the crops
Holmes Personal Ultrasonic Humidifier
This another humidifier designed for small grow room or grow tents. The appliance holds up to 2-3 gallons of water and for every tank, it runs for 24 hours it comes with two speed dials that allow you to control the speed of the mist. The humidifier is easy to maintain and use and you can safely wash it in your dishwasher. It is filter free and has an antimicrobial protection that prevents the growth of bacteria that cause odors and stains. The cool mist that the appliance disperses into the air offers a pure and clean environment for the crops. The safe and convenient humidifiers can also work best for a medium grow room just as well as they work for a small grow room.
A summary of the features
Small

and compact

Works

well with small and medium size grow rooms

Has

a clean and safe moist

Comes

with 2 speed controls

Easy

to use

Affordable

Needs

regular cleaning

Has

curves on the water tank that make it difficult to fill
Crane Ultrasonic Cool Mist Humidifier
Made in the USA, this small, compact humidifier is best for small grow room marijuana farming. It has a beautiful design with blue and white colors and holds 1 gallon of water. Besides the stylish design, the appliance increases moisture in the air making it easier for the plants to breathe and grow. It is whisper quiet and runs for 24 hours before the next refill.
The humidifier prevents the growth of bacteria and the buildup of mildew and mold on the marijuana crops. The mist covers the whole area and all the crops get it. The appliance does not require any filter to function effectively. It turns itself off automatically when water runs dry which saves you energy costs. With the purchase of every product, you get a one-year manufacturer's warranty. You have to produce a proof of purchase.
A summary of the features
Easy

to use

Easy

to fill water tank

Mist

spreads 360%

Portable

Affordable

Auto

shut off which saves energy and costs

Does

not require a filter

Only

good for small grow tents and grow rooms

You

can only use distilled water to avoid white dust from the mist

Very

little water capacity

Needs

regular cleaning
Things to consider when buying a humidifier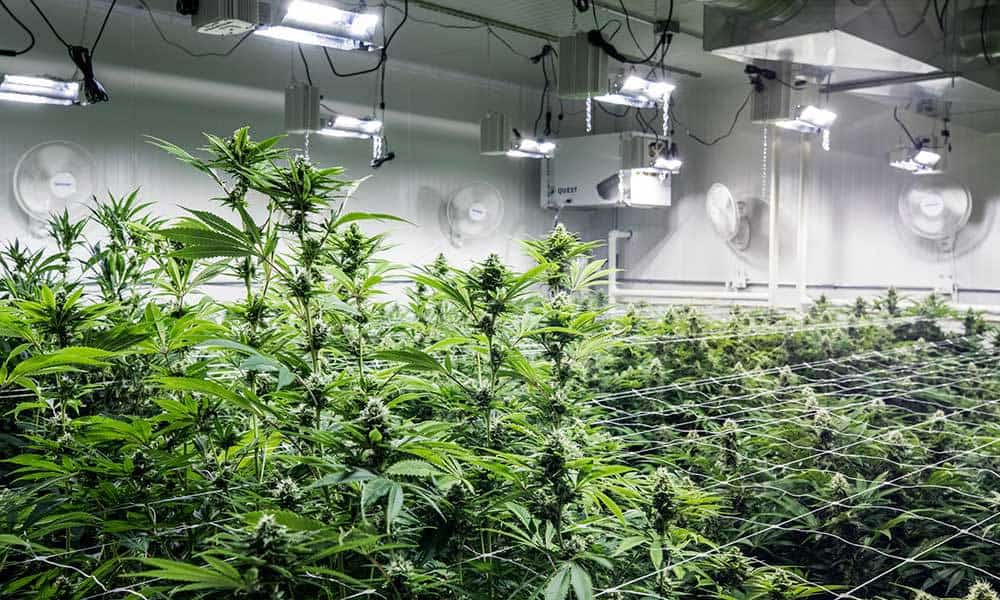 Buying a humidifier for your marijuana may not be as simple as you may think. You need to consider several factors before spending your money on the wrong appliance, below are some of the things to take into consideration
Room size
This is the first consideration to make because if you have a small grow room, you will not need to go for large appliances that hold many gallons of water. Luckily, there are humidifiers for all types and sizes of rooms. Buy one that is appropriate for the size to in order to get maximum results from your plants.
Type of Humidifier
Humidifiers come in different types. First carry out an extensive review of the different types there are in the market and choose your preference. The most common types of humidifiers are the cool mist and the warm mist models. Both have the same functions, but their features and prices differ so your choice will largely depend on your preference.
Run time also differs from one humidifier to the next. Buy a humidifier that clearly states what its run time is. While some go for 24 hours or even as little as 12 hours, others go for even up to 70 hours. You will not find a humidifier that runs indefinitely so make a decision on what you want your appliances run time to be in order to achieve maximum results
Control Timer
Getting a humidifier with a timer will safeguard your crops from over humidification. A timer will allow you to control the humidifier for the period suitable for your crops. A timer will stop at the time you want it to if you get an appliance without a timer and you get help up somewhere or forget to go and switch off the timer; you could put your crops at risk.
Easy to use
Buy a humidifier that is easy to use even for first time users and growers. Do not go for a product that will give you a headache to use. You are farming, not trying to fly to the moon so ensure that the design and all the features are easy to use. When we say user friendly, we mean the appliance should be easy to clean, easy to assemble, easy to move around, have buttons that are easy to operate and a LED screen that clearly indicates the humidity levels. The speed of the fans should also be easy to control.
Cleaning and Maintenance
Getting a humidifier that is hard to clean and maintain is frustrating. A clean unit also ensures that the moisture going out of the unit is both safe and clean. Not cleaning well will harm your crops because the mist emission and moisture in the room will be unclean. A dirty appliance may also cost you more for maintenance because chances are it will break down more often than not.
Affordability
Many new farmers will probably opt for the cheap products because they are just starting out. Others may feel that the cheaper the product, the less effective the results. It is not always true that neither expensive is always the best nor is it true that with cheap, you can save. You may be buying a cheap product to try to save some money but the product ends up costing more for maintenance. You may also go for a very expensive product only to realize that it does not deliver as expected. Remember that every humidifier has its own maintenance ad operating costs. Get one that will not cost you much to maintain.
Auto shut off Humidistat
The auto shut off unit that automatically stops when the water tank is empty or when the humidifier reaches, its desired moisture level is called a humidistat. If you do not want to over humidify your grow room, then get a product with an auto shut off humidistat.
Why use a dehumidifier?
Now the question you may want to ask why is there need to remove moisture from a grow tent. A dehumidifier is just as important as humidifier. Excess moisture can damage your marijuana plants and you need the above appliance to take care of that to protect your plants from mold and mildew. Too much humidity levels could also lead to the plants getting a disease. To get the best from a weed humidifier, there are several things to consider. These are
Effective ventilation
A grow room needs effective ventilation to make sure that the humidity is not excessive compared to your weed requirements. If the ventilation is too much, there will a lot of moisture in the room. To balance this, you need a dehumidifier to suck in the excess moisture.
Where you place the appliance
The placement of the humidifier or dehumidifier will also affect the growth and wellbeing of your crops. Choose the right location where the humidifier can ensure maximum ability to draw out moisture from the grow room. If you are using a single dehumidifier, place it in a central place in the room or above a LED grow light. Do not place the appliance very close to the marijuana plants. Also, make sure you have the correct spacing depending on the size of humidifier.
Wrapping it up
By now, you must be aware and convinced that a humidifier or dehumidifier is essential for the growth of your marijuana plants. You need to put it into consideration when you doing your grow room set up irrespective of the grow room size. Invest in the right humidifier that you are sure is capable of drawing out any excess moisture in the air and keeping the set moisture balance in place. This will not only ensure that you get healthy looking plants but it will keep the mold and mildew away from your marijuana. For you to harvest high quality cannabis, it needs to be free from all kinds of diseases. A good humidifier will ensure that your crop is free from that.
We hope you enjoyed reading the above article. For any questions or any further comments, you can reach us through the comment box. You can also read more of our previous articles on LED GROW LIGHTS and WEED SCALES among many others.
Best Seller Humidifier On Amazon:
Best Seller Dehumidifier On Amazon: