Many cannabis growers today are using more of COB LED grow light than they did in the past because they come with a few more advantages compared to the traditional HPS/MH grow lights. This is because you get more intense brightness and lighting from a COB 250 watt LED grow light from than you would from the MH and HPS grow lights. This goes for all wattage levels.
One of the things to consider though is that COB LED grow lights cost slightly more than other LED grow lights. Price not withstanding COB LEDs come with a design that accommodates more LEDs into their single chips than the other LED lights. This makes them have a much higher light and brightness intensity with lower energy consumption.
Other reasons people prefer COB LEDs over the others are the longer lifespan, the centralization of light which helps to generate less heat, denser and more intense light and their beautiful designs. Below is a review of one of the best 250 watt LED grow lights in the market.
PARFACTWORKS 250W COB LED Grow Light Review
Summary of features
Full coverage broad spectrum
Uses latest COB grow technology
Scientifically engineered par
Daisy chain feature
70% cooler than hid lights
For indoor use only
Warranty
Energy saving consumption
Overview
The PARFACTWORKS 250W COB LED grow light is an affordable unit that comes with an amazing design and similar wonderful and quality features. The grow light features the latest white COB technology that transforms your grow tent into beautiful natural colour. The indoors light mimics the sun's rays and light perfectly, which also helps in better health and growth of the crops.
This it does by using high powered 12 pieces of 10 watt Bridgelux/epileds LEDs together with 1 piece of 300K cob. The light comes with a long lifespan of 10,000 hours and they provide the crops with full broad spectrum light. The bean angle of the light is 90 degrees with the COB lens, which allows it to give uniform coverage to all the crops.
Without the COB lens, the angle extends to 135 degrees which covers an even wider range of the grow space. This is however ideal for the stages of the crop growth that require less light intensity.  The scientifically engineered par coverage from the COB LED grow light ensures that the crops get uniform and enough light for their better health and more yields.
Another feature that makes the grow light a worthy buy is its daisy chain system. This makes it easier to connect other units to the grow light for even more light and brightness intensity. Compared to hid lights, PARFACTWORKS is 70% cooler.
Another thing that makes this the perfect 250W LED grow light is that it goes through intense testing before leaving the manufacturing company. The grow light is a great energy saver as it consumes only 86 watts of power which are enough to provide full light coverage to a 3 by 3 foot and 2 by 2 foot grow tent. You also get the veg/bloom light switch that allows you to provide the crops with the right light spectrum during their different stages of growth.
The LED grow light comes with a manufacturer's warranty of three years and a money back guarantee of 30 days. The full package includes the PARFACTWORKS 250W LED grow light, a hanging kit, and a six foot power cord.
Pros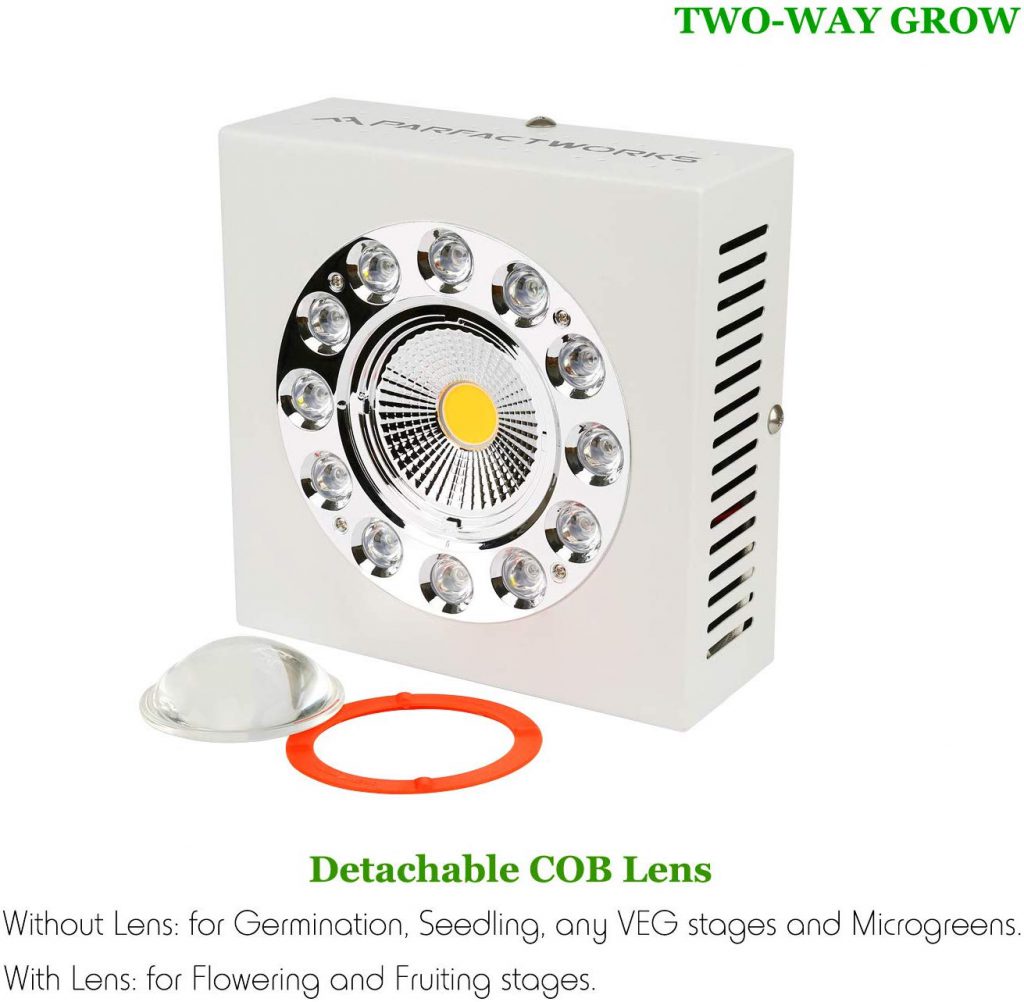 Affordable compared to many other COB led grow lights in the market
Provides full spectrum lighting
Provides essential par for full light coverage of the crops
Comes with a choice of using a COB lens or none at the panel
70% cooler than the hid grow light
Energy saving as it consumes only 86 watts of power
Daisy chain system that allows connection to other units for more effective results
Veg/bloom switch for different growth stages
Three-year warranty
30-day money back guarantee
Long hours of service amounting to 10,000 hours
Mimics the natural light effectively
Easy to install
Cooling low noise fan
Beautiful design
Cons
Light too bright and requires protective goggles
Dim UV and IR lights that barely work
Customer reviews
The grow light has 4.3 out of 5 stars from 30 customers. Out of these, 70% gave the glow light 5 stars. This is quite a high number which goes to show that the grow light is worth its cost and it does its job well. Many of the costumers hail it for the affordable price, sturdy construction, the quality of the lights and for the beautiful design.
Others bought the grow light to compliment the ones they already have with no regrets. Only a few of the customers complained about the lights stopping to work after a short while. This complaint however is from about two customers.
Wrapping it up
250-watt LED grow light is for growers with small spaces growing very few crops. It is especially great for first time growers as they start small before joining the big wigs. As little as the wattage is, the lights provide enough spectrum to give the crops full light coverage. Though COB LED grow lights are expensive, the above unit is an exception as it is affordable and comes with amazing features.
-$15.00 SALE OFF
Bestseller No. 1
Barrina T5 Grow Lights, Full Spectrum, 2ft 40W (4 x 10W, 250W Equivalent), LED Light Bulbs, Plant Lights for Indoor Plants, Greenhouse, Plug and Play, 4-Pack
Full Spectrum - Barrina T5 grow lights 2ft provide indoor plants with full-spectrum sunlight replacement. We provide the most reasonable grow light wave based on the ratio of the absorption of the plant
Super Bright and High PPFD- Consuming only 40W with 200 LEDS totally, replace 250w general plant lights. Over 95% light energy can be absorbed by plants. It is a great option for plants that in seedling, vegetative and flowering cycle
Separately Controllable - Each grow lights has on/off switch on the surface of housing, controlling the lights separately or together according PPFD that plants need
Easy Install - With included double-sided tape, clips and cable ties, you could install the led grow light strips by yourself in minutes. Plug and play, and you could link up to 16 lights in a series, saving your installation cost and time
What You Get - 2 years warranty. 4 x Barrina T5 Grow lights, 2 x Power cords with ON/OFF switch, 4 x Connecting Cords(20''), 4 x Small Connectors, 8 x Installation Clips, 12 x Double-sided Tapes, 12 x cable ties
-$20.00 SALE OFF
Bestseller No. 2
VIVOSUN VS1000 LED Grow Light with Samsung LM301 Diodes & Sosen Driver Dimmable Lights Sunlike Full Spectrum for Indoor Plants Seedling Veg and Bloom Plant Grow Lamps for 2x2/3x3 Grow Tent
High Efficiency & Lower Cost: The VIVOSUN VS1000 LED grow light uses the latest high-efficiency (2.75μmol/J) LED plant light technology with premium Samsung LM301 diodes, providing uniform lighting and stronger light output; The energy consumption is only 100 watts, making it more efficient than traditional HID lights and other plant lamps on the market; It is perfect for covering 3 x 3 ft. area (4 x 4 ft. max) and lights can be absorbed better by plants
Dimmable Ballast: This LED plant lamp has a dimming knob that makes it adaptable to different periods for various plants; The 4 levels of the adjustable dimmer can be used for sprouting to flowering; ​Designed with the daisy chain function (EXT), it allows you to connect multiple lights with 1 socket and reduce the number of outlets to avoid the mess; The slimmer style body allows for more types of plants
Full-spectrum Sunlike Lighting: These LEDs deliver optimal light-spectrum coverage (380nm-780nm, 660nm, 3000K, 5000K), offering more power for your blooms and maximum PAR output at various distances; The cool white light (5000K) promotes germination rates, the warm white light (3000K) peeds up blooming time, and the red light (660nm) improves the plant production; The lights can get through the surface of plants and deep into them to increase yields
No Noise & Low Heat: Equipped with high-quality heatsink and ventilation holes, this indoor grow light has effective heat dissipation function and lower ambient heat that prevents burning or damage to your plants; You can place the lamp above plants directly and give them enough lights based on the need; With no fan design, the light can provide a quiet working environment without interruption
Safe to Use: The pair of grow room glasses in the package can protect your eyes when the light is turning on; The VIVOSUN US-patented rope hangers are easily attached to the indoor tent or other tools; The IP65 rating surface can meet your demand in different indoor planting environments; We provide you with a 5-year after-sales warranty service, and if you have any problems with the item you received, please do not hesitate to contact us
Bestseller No. 3
BLOOM PLUS LED Grow Lights, BP 2500W 2X4ft Coverage Grow Light Use with 646packs Samsung Diodes(Includes IR), Dimmable Sunlike Full Spectrum Plant Grow Lights for Indoor Plants Seeding Veg and Bloom
LOWER COSTS & HIGHER-QUALITY YIELDS---Using the Newest high-yield LED technology-646 pcs Samsung 2835 diodes. So BP2500 LED Grow Lights achieves a high energy efficiency of 2.7 umol/J and improves the light transmittance. The LED Growing Light consumes only 250W of power, which is 50% less than the operating power of other 500W HID/Blurple/HPS lamps, while help gets 50% higher yield harvest. The maximum output is 2.5g/w. Veg Coverage: 3 x 5 ft, Flower: 2 x 4 ft.
OPTIMAL FULL-SPECTRUM LIGHTING---The Full Spectrum led grow lamp can provide everything the plants need under light at all stages. The powerful blue light makes the plants grow faster, and IR light is particularly useful during flowering, it can accelerate bloom time and increase yield, fill the flowers with space and obtain an amazing harvest. This can not only reduce buds but also increase yield while saving energy and costs.
WORKING SILENTLY & RELIABLY---A fanless design is used to provide you with a silent growth life. Using high-quality Samsung LED chips and reliable drivers, the light is also made of the LED board is passively cooled by a large-area thick aluminum heat sink. The fast-dissipating aluminum material reduces the light lost in walkways and walls, increasing the light intensity by 20%, allowing your plants to get more energy without burning the plants for maximum space.
UNIQUE DESIGN---Plant Grow Lights have a dimmable driver on the back, you can remove the rubber plug and adjust it with a 3mm Phillips screwdriver (adjustment range: 1.5-3.0A). Designed for indoor growers, the BP2500 full spectrum LED grow lights aim to help individual indoor growers and greenhouse growers to obtain higher yield and better quality within the budget.
100% SATISFACTION GUARANTEED---The Bloom Plus LED series offers a 30-day money-back guarantee and a trusted 3 years warranty. Professional U.S. local after-sales service provides you with the most convenient shopping experience. If any questions, please feel free to contact us with email.
Bestseller No. 4
TMLAPY N240 LED Grow Lights 240Watts Full Spectrum with Dimmable Daisy Chain Growing Lamps for Plants Seeding Vegs Flowers Hydroponic Indoor in 2x3/3x3 Grow Tent Greenhouse (20.67 * 16.53 in)
【LOWER COST & MAXIMIZE CROP YIELD】- TMLAPY N240 pro led grow light with upgraded SMD chip 4 passive-cooled led bars, higher light intensity, less light decay, better lumens and PAR values than ordinary LED chips. Max 2.8g yield per wattage with 30% higher average PPFD and 50% greater yield & quality compared with the old plant lights. SMD LED chips consume only 240W, help you achieve maximum quality and quantity.(Perfect for 3x3 ft, Max coverage 4x4 ft.)
【FLEXIBLE DIMMAING & FULL SPECTRUM GROW LIGHT】- 240w grow lights for indoor plants can be freely adjusted as plants need of growth at different stages with dimming option ranging from 0 to 100% levels. All SMD are used for new technology SMD leds which contain white leds, 660nm red leds, 405nm UV leds and 730nm IR leds. Master light easily controlled for commercial & home horticulture.
【AMAZING HEAT DISSIPATION & NO INSTALLATION REQUIRED】 - Cost-effective N240 plant lights with aluminum heat-sink, always can keep light bar cooling. Plug-and-play mounting system and field-replaceable parts allows for easy, low-cost maintenance. The built-in dimmer allows you to dial in the perfect PPFD for your plants at all stages of growth.Plant light for indoor plants generates far less heat than HPS and other HID lamps making them perfect for horticulture.
【DAISY CHAIN & MAXMIZE GROW SPACE】- Daisy chain function, it can achieve linking and controlling muiti lights up to 100pcs with the port at the same. Not only daisy the solo model N240, you also can connect them with other models of N series grow lights, controlling them simultaneously. Widely applied in the commercial growing, home grows tents, greenhouse, hydroponics.You can adjust the first light to control the rest lights. Note the rest lights dimmer should be at "A" firstly.
【FANLESS & WARRANTY】 - Plants grow lights with no fans zero noisy design, no any worry about noisy, ideal for grow houses, grow tents or stand rack. TMLAPY provides truly 3 years standard warranty plus 30 days money back guarantee, and 7/24 satisfying customer services. If there is any question or concerns, please feel free to Email us. We will help you with great pleasure!
-$6.90 SALE OFF
Bestseller No. 5
FECiDA Dimmable 1000W LED Grow Light, UV-IR Included Full Spectrum LED Grow Tent Light for 2x2 3x3 2x4 ft, 2023 Best Indoor Plants Growing Lamps, Daisy Chain Function & Quiet Build-in Fan
👍♔【HIGH PPFD HIGH YIELD & LOW COST】This 1000 watt led grow light designed with 588pcs high quality LEDs, only consume 130W at 100% Brightness. Higher PPFD higher yields. Many experienced growers have verified this result.
👍♔【STEPLESS DIMMABLE FUNCTION】This dimmable led grow light designed with a very useful knob, not only used as dimming function but also used as light switch. You can adjust the light brightness and output for different growth stages just as your plants need.
👍♔【UV-IR INCLUDED, IDEAL FULL SPECTRUM for All Growth Stages】This full spectrum led grow light designed with 3000K, 5000K, 660nm, UV-IR LEDs. Really ideal sunlike full spectrum grow light for all growth stages, from seed starting, seedlings, vegetables to flower, blooming.
👍♔【DAISY CHAIN FUNCTION】This small grow tent light is designed with a 3-pin input plug and an universal output socket, you can use the power cable come in the package to connect multiple lights together if you have more than two lights and only need one home socket. Suggest 1PCS CR600 for a 2x2 grow tent, 2PCS CR600 for a 2x4 or 3x3 grow tent, 4PCS CR600 for a 4x4 grow tent.
👍♔【STRONG COOLING SYSTEM】This indoor hanging grow lights patent designed with Quiet Build-in Fan & High-quality LED Board with Vents, excellent cooling system means longer lifespan of LED.