Many cannabis growers today are using more of COB LED grow light than they did in the past because they come with a few more advantages compared to the traditional HPS/MH grow lights. This is because you get more intense brightness and lighting from a COB 250 watt LED grow light from than you would from the MH and HPS grow lights. This goes for all wattage levels.
One of the things to consider though is that COB LED grow lights cost slightly more than other LED grow lights. Price not withstanding COB LEDs come with a design that accommodates more LEDs into their single chips than the other LED lights. This makes them have a much higher light and brightness intensity with lower energy consumption.
Other reasons people prefer COB LEDs over the others are the longer lifespan, the centralization of light which helps to generate less heat, denser and more intense light and their beautiful designs. Below is a review of one of the best 250 watt LED grow lights in the market.
PARFACTWORKS 250W COB LED Grow Light Review
Summary of features
Full coverage broad spectrum
Uses latest COB grow technology
Scientifically engineered par
Daisy chain feature
70% cooler than hid lights
For indoor use only
Warranty
Energy saving consumption
Overview
The PARFACTWORKS 250W COB LED grow light is an affordable unit that comes with an amazing design and similar wonderful and quality features. The grow light features the latest white COB technology that transforms your grow tent into beautiful natural colour. The indoors light mimics the sun's rays and light perfectly, which also helps in better health and growth of the crops.
This it does by using high powered 12 pieces of 10 watt Bridgelux/epileds LEDs together with 1 piece of 300K cob. The light comes with a long lifespan of 10,000 hours and they provide the crops with full broad spectrum light. The bean angle of the light is 90 degrees with the COB lens, which allows it to give uniform coverage to all the crops.
Without the COB lens, the angle extends to 135 degrees which covers an even wider range of the grow space. This is however ideal for the stages of the crop growth that require less light intensity.  The scientifically engineered par coverage from the COB LED grow light ensures that the crops get uniform and enough light for their better health and more yields.
Another feature that makes the grow light a worthy buy is its daisy chain system. This makes it easier to connect other units to the grow light for even more light and brightness intensity. Compared to hid lights, PARFACTWORKS is 70% cooler.
Another thing that makes this the perfect 250W LED grow light is that it goes through intense testing before leaving the manufacturing company. The grow light is a great energy saver as it consumes only 86 watts of power which are enough to provide full light coverage to a 3 by 3 foot and 2 by 2 foot grow tent. You also get the veg/bloom light switch that allows you to provide the crops with the right light spectrum during their different stages of growth.
The LED grow light comes with a manufacturer's warranty of three years and a money back guarantee of 30 days. The full package includes the PARFACTWORKS 250W LED grow light, a hanging kit, and a six foot power cord.
Pros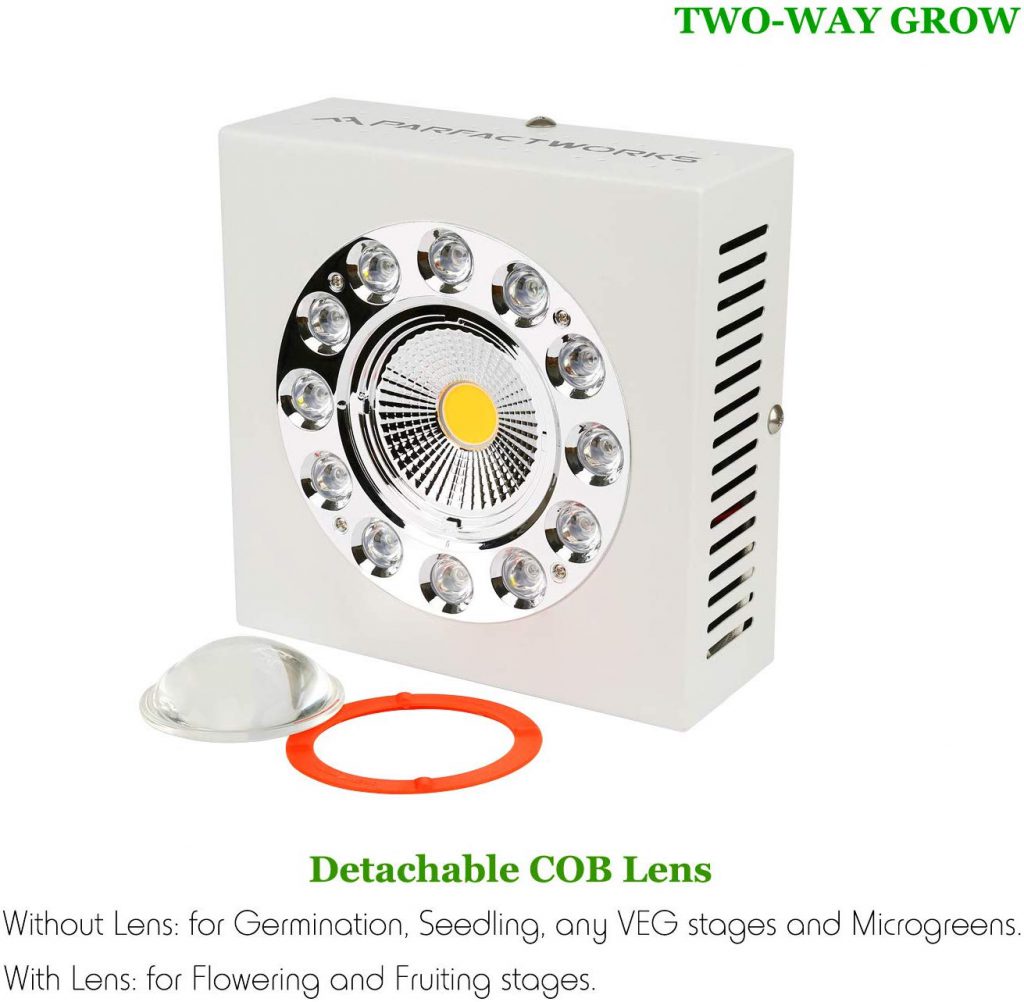 Affordable compared to many other COB led grow lights in the market
Provides full spectrum lighting
Provides essential par for full light coverage of the crops
Comes with a choice of using a COB lens or none at the panel
70% cooler than the hid grow light
Energy saving as it consumes only 86 watts of power
Daisy chain system that allows connection to other units for more effective results
Veg/bloom switch for different growth stages
Three-year warranty
30-day money back guarantee
Long hours of service amounting to 10,000 hours
Mimics the natural light effectively
Easy to install
Cooling low noise fan
Beautiful design
Cons
Light too bright and requires protective goggles
Dim UV and IR lights that barely work
Customer reviews
The grow light has 4.3 out of 5 stars from 30 customers. Out of these, 70% gave the glow light 5 stars. This is quite a high number which goes to show that the grow light is worth its cost and it does its job well. Many of the costumers hail it for the affordable price, sturdy construction, the quality of the lights and for the beautiful design.
Others bought the grow light to compliment the ones they already have with no regrets. Only a few of the customers complained about the lights stopping to work after a short while. This complaint however is from about two customers.
Wrapping it up
250-watt LED grow light is for growers with small spaces growing very few crops. It is especially great for first time growers as they start small before joining the big wigs. As little as the wattage is, the lights provide enough spectrum to give the crops full light coverage. Though COB LED grow lights are expensive, the above unit is an exception as it is affordable and comes with amazing features.