Cannabis plants need lots of light for their healthy growth and high yields. However, LED grow lights and other forms of lightings spectrums use electric power, which does not come cheap, which leads to many growers looking for better economic lighting systems to use indoors. One of the best solutions is by using solar-powered grow lights.
Solar lights eliminate electricity providing you with a one-time cost, clean energy, and the power to control the lighting system for proper growth and high yields. Solar powered lights are both environmentally friendly, and economical. We reviewed three of the best solar powered grow lights and came up with the following products.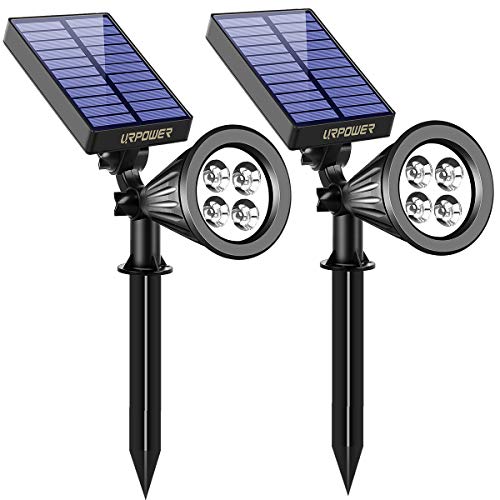 Our Top Picks of the Best Solar-Powered Solar Lights
Demana Solar Grow Light
Demana Solar Grow Light is a 16 LED grow lamp suitable for outdoor and indoor hydroponic plants. The lamp provides full-spectrum lighting that accelerates various crops' growth, including succulent plants, cannabis, potted, flowering, and foliage plants.
The light has other amazing features that make it one of the best solar powered grow lights on the market. The features include an auto/off function that provides 8-10 hours of light at night and 4-6 charging hours during the day.
It has a durable waterproof construction that can also withstand any weather and dust. The bulb has red, blue, and purple lights provided by four blue LEDs and sixteen red LEDs. It is lightweight, easy to install, cheap, and comes with ease of use.
Pros
Affordable
Easy to install and use
Lightweight
Durable and waterproof construction
Provides full-spectrum light
Energy-saving auto on/off function
Cons
Does not with instructions
Hard to tell when charging is full
Verdict
If you are looking for an inexpensive solar-powered grow light that provides your crops watchful spectrum lighting, this is it.
Kyson Solar-Powered LED Shed Light
Kyson is not a new name in the grow lights market as it manufactures widely used outdoor lights that come with high-quality features. The solar-powered LED shed light is one of the company's best products that cannabis growers use indoors and outdoors.
The light comes with white light, which provides the plants with natural brightness. Four LEDs housed in a single bulb provide the unit with natural white light. The shed light also comes with a 1.2 watts detachable solar panel that you can set outdoors to use for your indoor plants.
It also comes with a 9.8-foot extension cable that makes it easier to connect the light indoors. The lamp takes 6 to 8 hours to charge fully, and it delivers lighting continuously for 12 hours. The light is bright cheap, and comes with ease of use.
Pros
Affordable
Easy to use
Delivers natural bright light
Cost-friendly and economical as it saves on energy
Suitable for both indoors and outdoors gardening
Comes with an optional extension cable
Lightweight for easy installation and portability
Cons
Does not provide a large coverage area
Verdict
If you are looking for a versatile solar-powered light that you can use both indoors and outdoors, you will love the Kyson solar-powered shed light. The bright natural light from the unit stays on for long hours without worrying about electricity bills.
BEAU JARDIN Solar Lights Bright Pathway Outdoor Garden (8 Pack)
BEAU JARDIN is another reputable manufacturer that you can trust with high quality and efficient products. It also aims at turning gardens into beautiful sights, just as the name BEAU suggests. The 8-pack solar lights bright pathway outdoor garden provides both charm and healthy-looking crops to your garden.
The 100% solar-powered lights last between 8 to 12 hours and come in a rustproof glass and stainless construction. The glass construction is waterproof, which allows you to use the lights outdoors even during the wet season. The panel comes with an auto on/off energy-saving feature that absorbs light from the sun during the day and converts it into energy at night.
It also comes with a battery that uses energy saved to charge and provide the unit with an extra 50% power. The unit is energy-saving, comes with easy installation, lightweight and cost-friendly. It offers versatility as you can use it indoors, outdoors, on patio, and many other places.
Pros
Comes in a pack of 8 for more natural light coverage
Beautiful design that lights up the whole home with both charm and brightness
Waterproof
Comes with a battery that provides extra lighting
Cost-friendly
Lightweight, with easy installation
Energy-saving features
Offers versatility
Durable construction
Cons
The lights need handling with care as the glass casing is fragile
Verdict
The BEAU JARDIN lights are energy-efficient, versatile, and the best if you want to make your outdoors turn into a beautiful sight. The lights also come with a battery that holds 50% more power.
Related Post:
Wrapping It Up
Unlike grow lights that use electricity, solar-powered grow lights are energy-efficient, require little maintenance, and convenient. They are also cost-efficient and come with versatility, with a wide range of amazing designs and varying light spectrums.
Choosing any of the above solar-powered lights will ensure that your plants grow healthy, faster, and with high yields.